What is a guidance system?
Utilizing GPS navigation devices is now one of the most cutting-edge and well-liked advancements that have been made to agricultural machinery. When it comes to directing the operator around the field, the use of a tractor guidance system aids in steering the tractor across the field for precision farming.
Why do farmers need advanced tractors?
A tractor is agricultural equipment that helps farmers automate chores like tillage. These days, farmers use tractors for various farm tasks, including tilling the soil, plowing, and planting crops. The versatility of modern tractors allows them to use in a wide variety of contexts, including the delivery of fertilizer and the maintenance of grass and shrubs. Additionally, using the digital equipment and technology that SMAJAYU designed specifically for farming has led to a significant expansion in the range of tasks that advanced tractors are capable of doing. You'll find that using a tractor makes short work of the job at hand, whether you're overlooking your yard, working in the garden, or farming.
To keep your farm up-to-date, switch to a tractor guidance system:
There has been a sea change in the technology, techniques, and tools used in agricultural production throughout the course of the previous few decades. As a result of the introduction of new technology, the tractor guidance system in tractors is helping the farmers to see enormous industry developments.
The ever-increasing demand for driverless tractors prompts the natural question of why. According to the findings of an investigation, the value of the market for autonomous tractors and other types of agricultural equipment is anticipated to reach $150 billion by the year 2031. As the world moves forward, you should move forward and switch to the SMAJAYU tractor guidance system.
New challenge for modern farmers:
Farmers in every region of the world are encountered with the same challenge, which is how to raise the amount of food produced without increasing the amount of land used. The most effective approach to resolving this issue is to implement a solution that involves the automation of labor-intensive, routine, and mundane tasks, for instance, by using the JY100 Guidance System.
JY100 Guidance System: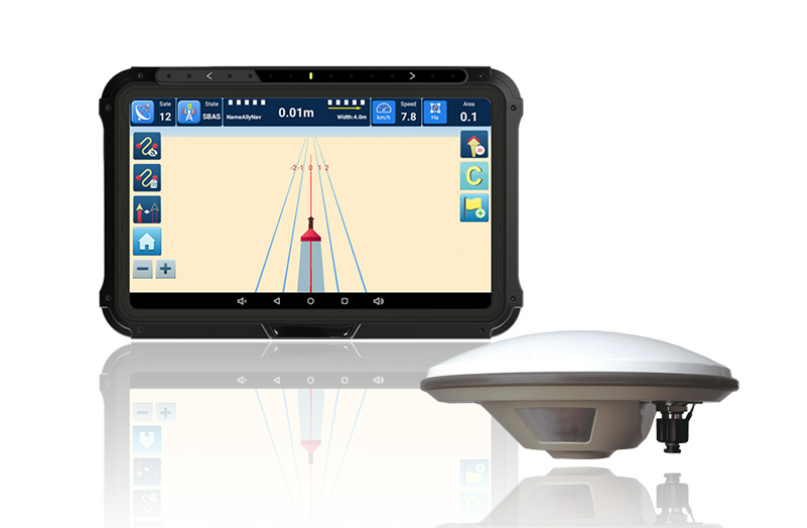 JY100 Guidance System boosts operational precision and productivity by reducing the need for technical expertise from human hands and directing operations in the right direction.
It has a 10-inch tablet
It has an exacting Global Navigation Satellite System (GNSS) Antenna
It offers Mobility and simplicity of setup
It depends on the accuracy of the CORS system
The tractor guidance system amazingly operates the tractor:
Worth mentioning are new technologies, which tractors benefit from. First of all, these are GPS and RTK. They allow:
It Monitors the amount of gas and oil that your tractor use. It creates new routes and changes existing ones so that they meet the requirements set by the tractor's fuel usage.
By using an autonomous guidance system, rows may be guided with a high degree of accuracy.
Because of recent improvements in precision farming technology, as well as the well-known reliability and manoeuvrability of tractors, farmers can use them for a wide variety of activities on farms. 
Advantages of autonomous tractor technology:
Over 20% of farms are unable to finish harvesting their crops because of a shortage of labor. Tractors' guidance systems can be updated to autonomous steering. Why autopilot recommended?
Driving these tractors would make it possible for farmers to devote more time to other projects. It would make it possible for agricultural tasks to be completed around the clock regardless of weather or visibility. It would reduce the exhaustion and burnout that are common among tractor operators. As a result, farmers have the opportunity to increase their productivity while simultaneously reducing their costs.
Automated tractors, with their capacity to autonomously gather data and store it in the cloud, assist the farmers and develop, maintain, and transfer the record of the agricultural process. In the next ten to fifteen years, it will be a regular practice to utilize specifically manufactured vehicles with tractor guidance systems for operations like spraying, cultivating, and sowing. It is easier to do.
If farmers use tractors that are capable of guiding themselves might significantly improve the accuracy of seeding, weeding, and harvesting, respectively. As a direct result of this, fewer seeds, pesticides, and other types of chemicals are needed.
SMAJAYU:
SMAJAYU has been in the market for agricultural guidance systems for 12 years and offers a number of advantages over more well-known companies such as John Deere, Topcon, Trimble, and others. One of the many things that set SMAJAYU apart from its competitors is the high-quality guidance kits for a manual guiding system and RTK system. It is just one of the numerous advantages that SMAJAYU offers. Farmers who use tractors that are equipped with an RTK system and an autosteer device are able to carry out agricultural activities with an accuracy that is measured in centimetres. Each member of SMAJAYU's technical team has an average of more than ten years of expertise in their field. Your improved experience is a direct result of our highly developed technology capabilities, our forward-thinking concepts, and the responsible and trustworthy members of our team.
Concluding words:
Farming equipment that is capable of autosteering and driving itself is, without a doubt, the way of the future. Farmers that want to stay ahead of the competition, lower their operational costs, and increase their revenues really need to invest in self-driving agricultural equipment. Farmers that are interested in employing autosteer and guidance systems no longer face a barrier to the entrance in the form of older tractors, as this example demonstrates. We have analyzed the most trustworthy autosteering systems for tractors, as well as evaluated the benefits. Check out our website for further information on the SMAJAYU autosteer.