What is the GNNS auto-steering system for tractors?
The JY305 tractor GNSS auto-steering system describes agricultural equipment that combines GNSS (Global Navigation Satellite System) technology with tractor auto-steering capabilities. A satellite-based navigation system called GNSS gives receivers on the ground exact location and timing data. It consists of gadgets like the GPS (Global Positioning System). Tractors with GNSS receivers can pinpoint their exact location by receiving signals from numerous satellites.
On the other side, auto-steering systems are technologies that automate vehicles' steering, such as tractors, without always needing user input. To manage the vehicle's steering, these systems employ various technologies, including hydraulic or electric actuators. Tractor GNSS auto-steering systems combine positional data from the GNSS receiver to provide precise and accurate tractor steering. The system employs algorithms and control systems to steer the tractor as closely as possible, following specified pathways, such as straight lines or curved rows. Agricultural processes, including planting, growing, and harvesting crops, are made more efficient and accurate because of this automation, which also lessens the operator's workload.
The amazing features of the JY305 tractor auto-steering system:
A high-torque motor control steering wheel is used in the JY305 tractor GNSS Auto-Steering System, an automated steering system. The advantages of easy installation, high torque, high accuracy, low noise, low heat, and rapid debugging are all included in it. A high-torque motor control steering wheel is used in the JY305 Auto-Steering System, an automated steering system. It combines the benefits of rapid debugging, huge torque, high accuracy, low noise, and easy installation. It is appropriate for various agricultural models, including tractors, harvesting equipment, plant protection equipment, rice transplanters, and more.
RTK tractor auto-steering is 2.5 cm accurate.
It is a control tablet with a 10.1" screen.
Support the accuracy of CORS.
Installation is easy and quick, requires little to no troubleshooting, and may be finished.
It is high precision to 2.5 cm.
Multiple constellations and frequencies are supported.
GPS, GLONASS, BeiDou B1, B2, Galileo E1, E5b, QZSS, and SBAS are all types of satellites.
Display with error warning light target, quick assessment of operation correctness.
The Future of Agriculture: JY305 Tractor Auto-Steering System:
Tractor GNSS auto-steering systems have several advantages, including higher output, less operator fatigue, better field precision, and the capacity to operate in low-visibility situations. To optimize inputs and improve all aspects of farm management, these systems can also be combined with other agricultural technology, such as variable rate application systems. Undoubtedly a cutting-edge piece of equipment, the JY305 Tractor Auto-Steering System is what farming will look like in the future. Auto-steering systems are intended to support farmers in efficiently and precisely operating their tractors and other agricultural equipment. The JY305 Tractor Auto-Steering System has the following salient characteristics and advantages: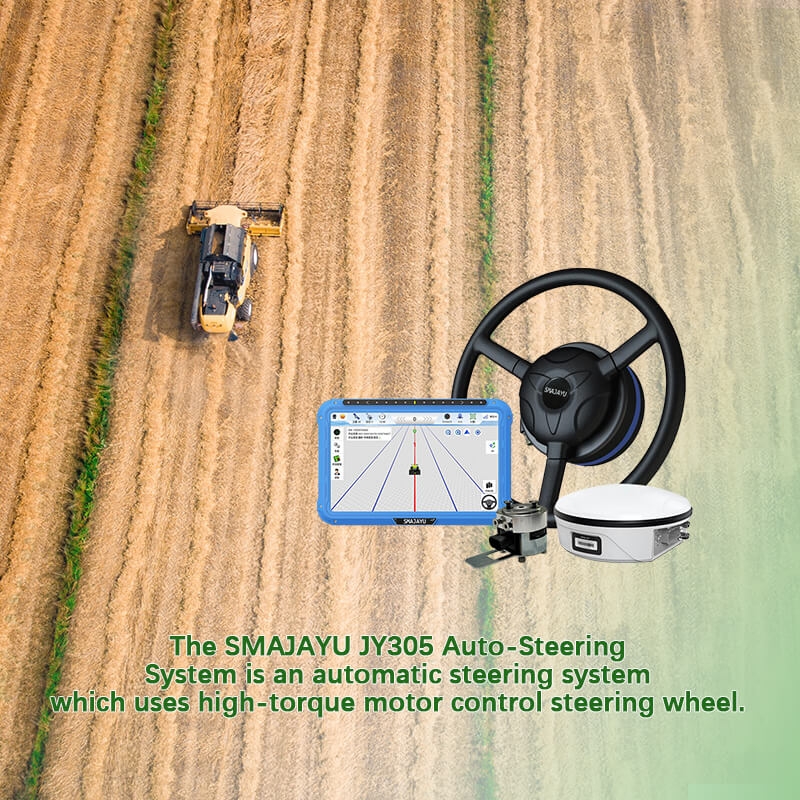 The tractor is guided along pre-programmed courses by the auto-steering system, which uses cutting-edge GPS technology and precise sensors. With fewer overlaps and skips, this assures precise operation during various farming operations, including planting, spraying, and harvesting. It aids in maximizing the use of seeds, fertilizer, and other resources, increasing production and reducing costs.
By automating steering, the auto-steering system frees farmers to concentrate on other crucial activities while the tractor runs with no need for human input. In addition to extending working hours and allowing farmers to cover bigger tracts of land faster, it also lessens operator fatigue. The crucial farming seasons may benefit notably from this enhanced efficiency.
Impact on the environment lessened:
The precise operation made possible by auto-steering systems helps reduce the usage of fertilizers and agrochemicals. Farmers may use fewer chemicals by removing overlaps, resulting in more ecologically friendly agricultural practices. Further decreasing waste and damaging the environment, the system may be connected with mapping and variable-rate technologies to enable farmers to apply inputs based on particular soil conditions.
The auto-steering system increases safety by decreasing steering errors caused by people, especially when operating for extended periods. It aids in preventing accidents brought on by operator drowsiness, inattention, or error in judgment. Additionally, the system may issue alerts or warnings for possible dangers like obstructions or uneven ground, enabling operators to take the appropriate safety measures.
Data gathering and analysis:
Auto-steering systems frequently have integrated data-gathering features like yield monitoring, soil mapping, and field documentation. This information may be used to evaluate the performance of crops, spot potential problem regions, and decide on the best crop management practices. Better documentation and data-driven decision-making are made possible by the integration of auto-steering systems with farm management software.
Compatibility and flexibility:
The JY305 Tractor Auto-Steering System is flexible and compatible with various tractor types and implements, making it available to farmers with different equipment configurations. It can adapt to diverse field conditions, topographies, and cropping systems and be employed for various farming jobs.
The major manufacturer of the JY305 tractor auto-steering system is SMAJAYU.
SMAJAYU offered changeable attachments following vehicle standards to increase flexibility and prevent equipment usage from being restricted to a particular kind of farm vehicle. Software with a user-friendly interface makes controlling field operations simple. The technical staff of SMAJAYU has more than ten years of experience and knowledge. You will have a better experience because of our team's advanced technological skills, creativity, and dependability.
Conclusion:
Regarding agricultural technology, the JY305 Tractor GNSS Auto-Steering System is a considerable best farmer. In addition to enhancing safety, efficiency, and precision, it also lessens the environmental impact. Auto-steering devices like this one will probably be essential in advancing farming techniques and guaranteeing sustainable food production as agriculture changes. The major objectives of SMAJAYU intelligent agriculture are to maximize farmer productivity, lower input costs, increase farm revenue, and improve the farm environment. SMAJAYU is searching for dealership opportunities for auto-steering precision systems in agriculturally-oriented nations and areas to assist the rapidly expanding agricultural industry.