he SMAJAYU JY305 Tractor Auto Steer System is an essential piece of equipment for any farmer. It significantly reduces the amount of time and labor needed to plow a field, and it does so with amazing accuracy. Read the future to know everything about JY305.
What is a tractor?
The tractor is an agricultural vehicle with four-wheel drive and a maximum speed of 25 km/h. The tractor is equipped with a three-cylinder diesel engine with a power output of 25 hp. The tractor is used for various agricultural operations such as plowing, harrowing, and seeding. The tractor is equipped with a powerful engine that makes it capable of completing these tasks quickly and efficiently. With its powerful engine and rugged construction, this tractor can handle any job you throw at it. Whether you need to plow your fields, haul hay, or simply maintain your property, the tractor is up to the task.
How does tractor work?
The tractor is a workhorse on the farm. It is a very versatile machine that can be used for various tasks. The tractor is powered by a diesel engine that provides plenty of torque to get the job done. The transmission is a hydrostatic transmission that provides infinite speed control. It is equipped with a powerful engine that allows it to plow through the toughest of soils. The tractor is also equipped with a robust transmission that will enable it to tow heavy loads. The tractor is a great asset to any farm.
The components of the JY305 Tractor Auto Steer System
The JY305 Tractor Auto Steer System is a great addition to any farm. This system will automatically steer your tractor while you are driving, making it easier to stay on course. The system includes a GPS receiver, display, and control unit, as well as an antenna and wiring harness. Let's have a brief overview of each component
The JY305 tractor steering motor is an electric motor that is used to power the steering of a tractor. This motor is powered by a 12-volt battery and is controlled by a steering wheel. The motor is mounted on the front of the tractor and is connected to the steering wheel by a series of gears. It is used to help farmers in the field by providing steering assistance to the tractor. This motor is designed to work with a variety of different tractor models and can be easily installed.
The steering wheel of the JY305 tractor auto steer is an important part of the tractor. It is used to steer the tractor in the right direction. The steering wheel is made up of different parts like the steering column, steering wheel, steering arm, and steering box. The steering column is the main part of the steering wheel.
The Auto Steer JY305 Tractor Display Unit is an impressive display unit that is used in the JY305 tractor. The display unit consists of a Tablet mounted in the cab of the tractor.
This display unit allows for the easy and accurate steering of the tractor. This display unit is very user-friendly, and it is easy to install. It keeps you informed of the machine's progress and performance. It can be a valuable asset in helping you manage your farm.
A GPS receiver can be a great addition to your tractor. It can help you with auto-steering, keep you on the course, and even provide guidance in low-visibility conditions. There are a few things to consider when choosing a GPS receiver for your tractor, such as price, features, and compatibility.
With a GPS receiver, you can automatically steer your tractor in the field, which can help you save time and increase your efficiency. A GPS receiver can also help you avoid obstacles in the field, and it can help you find your way if you get lost.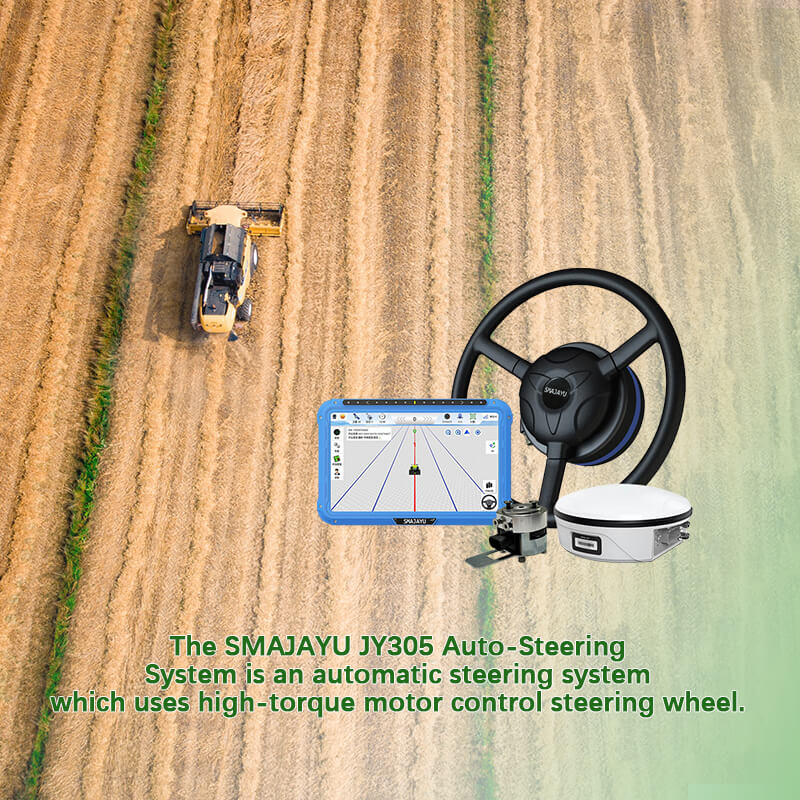 Auto Steer Systems for Tractors - Five Considerations
With the many different brands, configurations, and capabilities of auto-steer systems on the market today, it can take time to decide which one is right for your operation. Here are factors to keep in mind when making your decision.
To ensure your tractor is compatible with an auto-steer system, you'll need to consider the size of your tractor. The width, length, and height of your tractor all play a role in compatibility.
The size of the tractor you need for your operation depends on a variety of factors. The first is the width of your fields. If you have very wide fields, you will need a tractor with a wider wheelbase to minimize soil compaction. If you have narrower fields, you can get by with a narrower tractor.
Farmers need to consider the type of terrain when selecting an auto-steer system for their farm equipment. There are many reasons to consider the type of terrain when using an Auto Steer System. The type of terrain can impact the performance of the system, as well as the safety of the operator.
An auto-steer system can be a great investment for your farm, but it's important to consider the type of crop you're growing before making a purchase. Different crops require different levels of precision, and some auto-steer systems are better equipped to handle certain types of crops than others.
When it comes to auto-steer systems, one of the most important factors to consider is your budget. There are a variety of different systems on the market, and they can range in price from a few hundred dollars to several thousand.
The SMAJAYU JY305 Tractor Auto Steer System is a great addition to any farm. It allows the farmer to automatically steer their tractor, making it easier to work the fields. The system is very easy to install and use, and it makes farming much more efficient. It is designed to provide farmers with a high degree of accuracy and precision when operating their tractors. The system uses GPS technology to automatically steer the tractor in the desired direction.