What is meant by guidance systems for older tractors?
Using guidance systems, older tractors may be given the best possible performance support. For many years, tractors have been an essential part of rural life for farming and other agricultural uses. Modern tractors include enhanced guidance systems that enable more accurate and effective land management, making them more complex than ever in response to the rise of precision agriculture. Guidance systems for older tractors make it simpler to move the tractor over the field and guarantee that it is going as efficiently as possible by utilizing GPS and other technologies. As they enable farmers to farm more effectively and precisely, these systems are becoming more and more popular for older tractors. Without much user involvement, the system should be able to place the tractor precisely on the field. They are simple to set up and may be customized to meet a farmer's unique requirements. By eliminating the requirement for human and technical competence and guiding operations in the appropriate direction, JY100 Guidance System increases operational precision and productivity.
The tablet is 10 inches.
It possesses a strict Global Navigation Satellite System (GNSS) Antenna.
Mobility and ease of setup are provided by it.
The CORS system's precision will determine this.
Older Tractor Guidance Systems to Consider: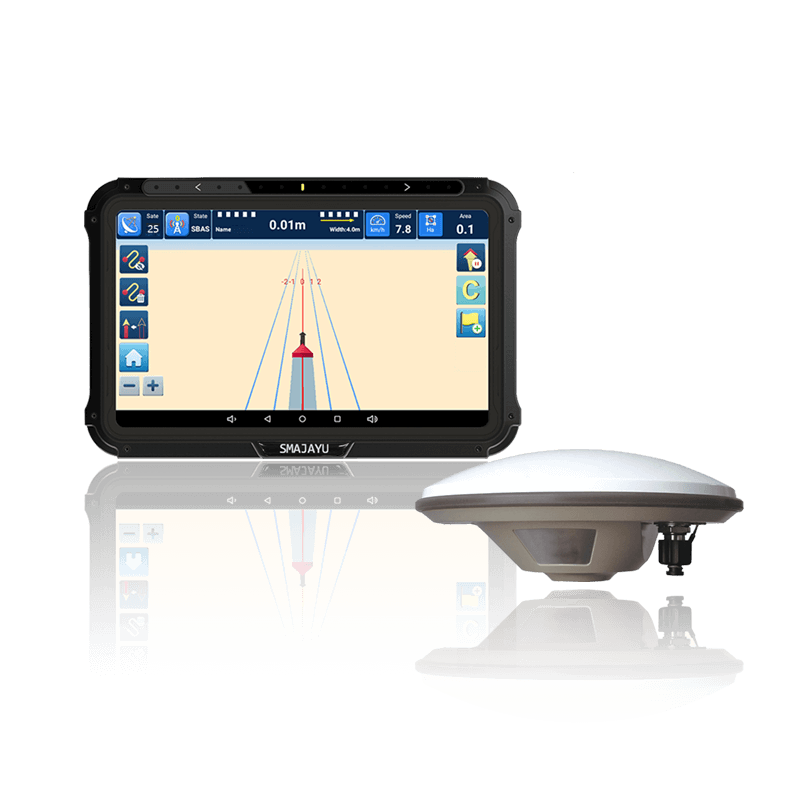 The owners of many small and medium-sized farms are thinking about investing in GPS devices, and navigation systems for their gear as precision farming techniques become more and more common. Agriculture experts may choose from a wide range of these gadgets on the market, but many farmers need help determining where to acquire guiding systems for older tractors. This post will discuss superb guidance systems for older tractors appropriate for used agricultural equipment.
Today, one of the most innovative and well-liked improvements to agricultural machinery is using GPS navigation systems. Using a tractor guidance system helps with precision farming by helping steer the tractor over the field and guide the operator. A professional GNSS smart antenna, a huge display, and guiding software make up the JY100 guidance system.
For the precision farmer of today, it would be the ideal guidance option. The software offers a farmer-friendly user interface and big, recognizable buttons for every function. It has 3-click navigation, which is suitable for people who need more training or guide expertise. With JY100, you can effortlessly do various agricultural activities, increase your farm output, and extend your operating hours. It is reliable, accurate, and economical.
Modern farmers have a brand-new challenge, how to increase food production without using more land. This problem affects farmers in every corner of the world. The most efficient way to deal with this problem is to implement a system that automates labour-intensive, repetitive, and menial operations, such as employing the JY100 Guidance System.
Why is SMAJAYU a leading producer of guidance systems for older tractors?
As you can see, farmers who wish to use contemporary tractor guidance are no longer constrained by owning an older tractor. Compared to more well-known firms like John Deere, Topcon, Trimble, and others, SMAJAYU has been in the agricultural guiding system industry for 12 years and has various benefits. The superior guidance kits for an RTK and manual guiding system are only one of the numerous aspects that set SMAJAYU apart from its rivals. It is only one of the many benefits that SMAJAYU provides. Farmers can do agricultural tasks with centimeter-level accuracy using tractors fitted with an RTK system and an auto steer device. The technical team of SMAJAYU consists of individuals with an average of more than ten years of experience.
Customer services are competent:
The service is always kind and competent. When looking for a decent deal, everyone prefers this manufacturer above others. If you're looking for a recently created and trustworthy guiding system, you're highly encouraged to contact the SMAJAYU manufacturer. The store is great for learning about new items and up-to-date information. Before delivering anything to you, our agents verify it as it arrives at an authentication center to ensure it satisfies our internal quality requirements.
Better product quality and identity verification:
Authenticated items are of higher quality, which is advantageous to both buyers and sellers, who may profit from knowing that the item is real and has been approved. An authentication process is carried out every time an item is bought or sold over the Internet. Both buyers' and sellers' interests are served by increased buyer confidence. There will be no chargebacks or refunds because of the verification process. Everything is taken care of after it is sent to SMAJAYU. There won't be much administration for you to deal with, which is great.
The quoted price is unbelievable:
Counterfeit goods are increasingly more commonly available on the market as e-commerce platforms expand. The trustworthy platform SMAJAYU uses strict internal authentication to guarantee the security of every transaction. The prices must be lowered. A guiding system manufacturer may be purchased from SMAJAYU easily, dependably, and securely.
The variety of items is superb:
Everything is contained in the vast SMAJAYU collection. It is incredible how many various goods are currently offered. The majority of well-known companies provide a variety of goods. The search bar is the main tool that makes it simple to find what you're looking for.
Conclusion:
Farmers who want to maximize their productivity and enhance yields are placing more and more emphasis on guidance systems for older tractors. They can aid in cost-cutting and increased efficiency. These devices can help farmers plant and harvest crops more quickly and accurately while saving time and money. They are simple to set up and may be customized to meet a farmer's unique requirements. The cutting-edge producer guiding system SMAJAYU was created to function with older tractors. Precision agriculture boosts productivity and production by integrating cutting-edge technology with age-old farming methods. They are made to assist older tractors in keeping up with the newest innovations and performance requirements. These systems can provide better safety features while increasing efficiency and lowering expenses. Our top aim is to satisfy our customers. Not only once, but always, you can count on us. Get at once!