What is meant by Farm automated steering system?
A farming automated steering system is a technology that aids farmers in controlling their tractors and other agricultural machinery with the least amount of manual labour. This technology employs GPS and other sensors to direct the vehicle along a predetermined course, lessening operator labour and boosting field operating efficiency.
Some of the characteristics that automated steering systems frequently include are precision steering control, guiding and mapping, obstacle avoidance, and the capacity to record and retrieve field data. Farm automated steering system has the potential to change farming and help you enhance earnings through factors like improved precision and reduced tiredness.
How might an automated steering system for farms assist you in boosting yields?
Your Farm's efficiency may be considerably improved, and it will help you make the most of your property if you install an autonomous steering system. A Farm automated steering system (FASS) is a device that aids farmers in increasing yields by decreasing the time and energy required to guide tractors and other farming equipment manually. FASS allows easier and quicker rotations for speedier harvests and increases accuracy while navigating obstructions. In several ways, an automated steering system can boost yields:
The method minimizes overlap and ensures that every square inch of the field is utilized by using GPS and other sensors to precisely drive equipment and carry out operations like planting, harvesting, and applying fertilizer.
An automated steering system can assist farmers in utilizing inputs more effectively, decreasing costs and raising yields by eliminating overlap and maximizing coverage.
Automated steering systems provide consistent quality of field operations by ensuring that the equipment maintains a precise course and completes tasks with constant depth, speed, and pressure.
Farmers may cover more land in less time using automated steering systems, freeing time for other crucial chores. In general, a robotic steering system may assist farmers in making better decisions, maximizing their inputs, and raising yields.
An automated steering system can promote soil health, resulting in healthier crops and greater yields, by decreasing soil compaction and encouraging consistent field operations.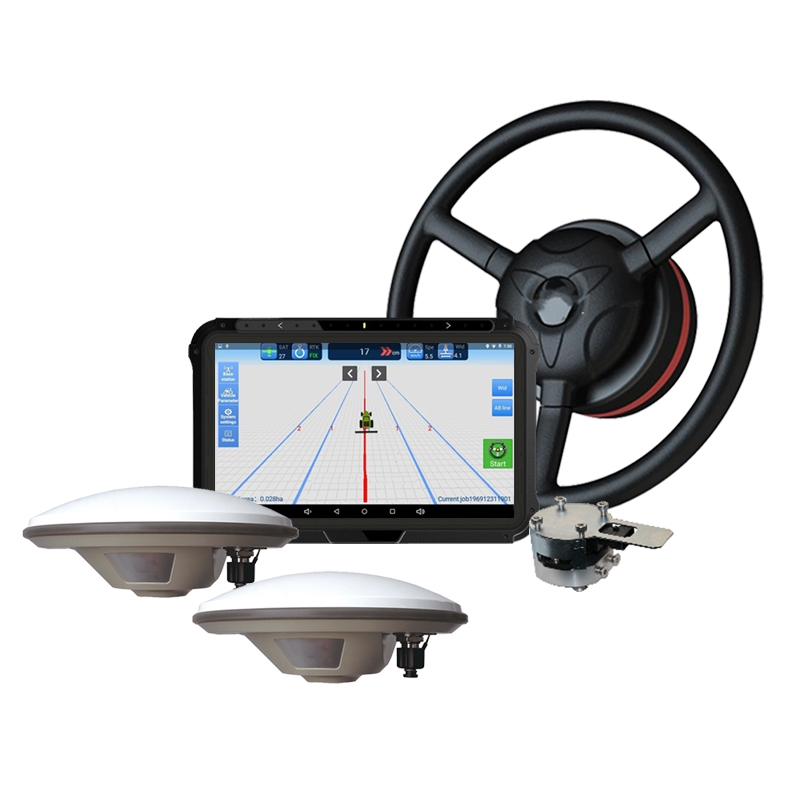 Crucial factors to think about while choosing an automated steering system for your Farm:
Precision agriculture is an agricultural production technique that employs information technology to track and manage crop output on a field-by-field basis. One of the fundamental elements of precision agriculture is a Farm automated steering system, which may be used to direct agricultural tractors and tools precisely. The device is designed for accurate and dependable tractor steering in various crop-related tasks. The usage of automated steering systems for farm tractors is rising in popularity due to the rising need for productive and sustainable agriculture. When choosing an automated steering system for a farm, keep the following things in mind:
Ensure the technology can be incorporated into your current agricultural operations and is compatible with the machinery you already have.
To ensure accurate navigation and control of your equipment, use a system that offers great precision in GPS and other sensors.
Pick a user-friendly and simple system so you may reap the rewards to the fullest with the least amount of disturbance to your regular business activities. Consider a system with a solid warranty and customer support system, as well as one that has a history of being dependable.
Establish your spending limit and select a system that satisfies it while offering the required features and capabilities.
Take into account a system that can expand as your farming activities do. Analyze the system's capacity for data collection and administration and how effectively it integrates with any existing data management solutions you may be using.
Pick a system whose technical support staff is capable of assisting you with installation, training, and continuing support. You may choose the ideal Farm automated steering system for your unique requirements and optimize the benefits for your Farm by keeping these criteria in mind.
Unlock the benefits of automated farm directing:
By adhering to these procedures, you may successfully adopt and use the Farm's automated steering system to boost productivity, boost yields, and make better judgments in your agricultural operations. Deploying an automated steering system appropriately and operating it efficiently is crucial if you want to reap its benefits. You can follow the instructions listed below:
Make sure you and your operators receive sufficient instruction on how to operate the system correctly so you can fully benefit from all of its capabilities.
Integration with Other Systems:
To optimize the advantages and streamline your operations, integrate the automated steering system with other technologies you may employ, such as precision agricultural equipment.
Accurate Data Collection and Management:
Make use of the system to gather precise data and manage it successfully so that you may decide with confidence and streamline your operations.
Continuously Monitor and Evaluate:
Keep an eye on the system's performance and utilize the information you get to make adjustments and streamline your workflow. Maintain the system regularly to ensure it continues to work correctly and deliver the advantages you anticipate.
Conclusion:
Farmers' use of tractors and other agricultural equipment is being revolutionized by a new piece of technology called Farm automated steering system. These systems are taking the place of conventional manual steering systems to enable more precise, successful, and economical agricultural methods. A complete system that offers accurate and automatic control of a vehicle in a variety of circumstances is the SMAJAYU Auto steering System. The system offers a full range of functions to provide precise, effective steering control and is made to be utilized with existing vehicles, such as tractors, combines, and sprayers. Get yours right away!