What is a tractor guidance system?
A guidance system for tractor is a collection of devices and technologies that aid the driver automatically in navigating and guiding the tractor. While doing chores like planting, spraying, and agricultural harvesting, these devices can assist farmers in becoming more accurate and productive. There has never been a more pressing need for an autonomous system for farm tractors. Increasing productivity and efficiency in the agriculture industry is crucial due to the rising need for food. The design and development of an autonomous guiding system for farm tractors, which may be utilized to support precision agriculture, are presented in this work.
JY100 Guidance System:
The JY100 Guidance System increases operational accuracy and productivity by lowering human and technical competence requirements and guiding operations in the proper direction.
Ten-inch tablet is included.
It features a meticulous Global Navigation Satellite System (GNSS) Antenna.
Mobility and ease of setup are its two main benefits.
Dependent upon the CORS system's correctness
The Effectiveness of a Tractor Guidance System:
Technology that offers accurate navigation and control of agricultural machinery is known as a guidance system for tractor. Using a tractor guiding system has several advantages, such as:
By minimizing overlaps and skips in their field activities, a guidance system can help farmers operate more productively. As a result, they may save time, use less fuel, and take better care of their equipment.
A guiding system can assist farmers in placing seeds, fertilizer, and other inputs more precisely. This may result in higher agricultural yields and less waste.
A guiding system can assist farmers in decreasing their environmental effects by minimizing overlaps and skips. This might involve reducing the Use of pesticides and herbicides, saving water, and decreasing soil erosion.
By giving real-time information about risks and other barriers, a guidance system may assist farmers in moving around their fields more securely. Accident and injury risk may be decreased as a result.
A guiding system can also give farmers useful information about their field activities, improving data management. This information may increase farm profitability, enhance agricultural yields, and cut waste.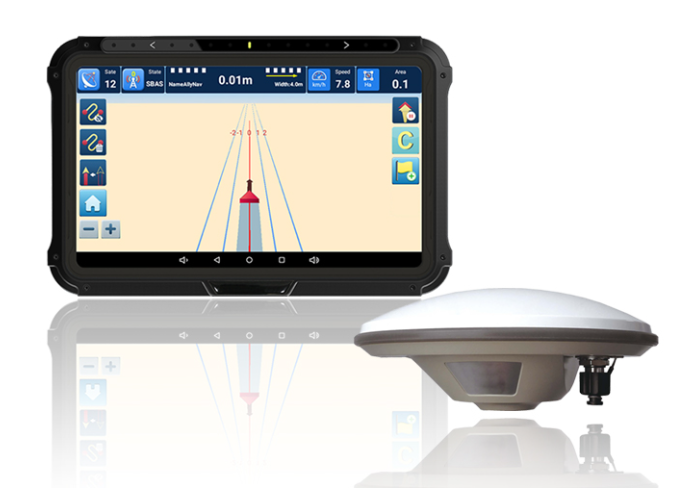 Enhancing Your Farm Using a Tractor Guiding System:
Increased productivity, less operator fatigue, and enhanced precision are just a few advantages of upgrading your farm with a guiding system for your tractor. You may improve your farm by installing a tractor-guiding system by following these steps:
The first step is to identify the sort of guiding system you require. Several systems are available, including GPS-based, laser-based, and camera-based systems. Selecting the system that best suits your demands is crucial because each has its own benefits.
Once you've identified your requirements, you may look at various guiding systems. Search for systems that are compatible with your tractor and provide the capabilities you want, such as variable rate application, boundary mapping, and auto-steering.
After deciding on a guiding system for your tractor, you must install it. You can hire a professional to complete this task for you if you feel you need more time to do it. To ensure that the system is installed properly, be sure to carefully follow the manufacturer's instructions.
To make sure the system is accurate after installation, you must calibrate it. This often entails operating the tractor along a predetermined path while making necessary system modifications.
Provide operators with training:
If you have staff members who will be utilizing the guidance system, it's crucial to do so to make sure they are aware of how to utilize it effectively. By doing this, you can optimize the system's advantages.
Why are modern tractors necessary for farmers?
Modern tractors are necessary for farmers for several reasons, including:
Modern tractors use less fuel, cover more ground in less time, and require fewer maintenance breaks. This boosts output while enabling farmers to save time and money.
Modern tractors come with equipment that enables more precise application of herbicides, insecticides, and fertilizers by farmers. This can lessen the impact on the environment while increasing agricultural production.
Modern tractors frequently come with cutting-edge robotics and automation technology, which lower the amount of physical labour necessary. Farmers may be able to save time and money by doing this.
Thanks to ergonomic design and safety considerations, modern tractors are more comfortable and less likely to cause accidents or injuries.
Consider converting to a tractor steering system to keep your farm modern:
Agricultural production technology, methods, and equipment during the past few decades have radically transitioned. The tractor guiding system in tractors is assisting farmers in seeing significant industrial advancements due to introducing of new technologies.
The issue of why autonomous tractors are in such high demand is logical. According to research, the market for autonomous tractors and other agricultural equipment is expected to grow to $150 billion by 2023. You should move forward and convert to the SMAJAYU guidance system for tractor as the rest of the world does.
Conclusion:
Guidance systems for the tractor are becoming increasingly important to farmers who wish to optimize production and improve yields. It might promote greater effectiveness and cost-cutting. Our tools can make crop planting and harvesting more efficient for farmers, saving them time and money. It is easy to set up and may be tailored to a farmer's needs. The SMAJAYU producer steering system was designed to work with tractors. By combining cutting-edge technology with time-tested farming practices, precision agriculture increases productivity and production. It is designed to help tractors keep up with recent advancements and performance standards. Our technical team consists of individuals with an average of more than ten years of experience. Our highly developed technological skills, futuristic ideas, and responsible and reliable team members provide a better experience for you.