Since 1915, when cheap, engine-driven tractors first became widely accessible to farmers, farming has been completely transformed by increased productivity in both planting and harvesting. The introduction of engine-driven machinery allowed a single worker to do the equivalent of four people's worth of labor, significantly increasing agricultural productivity and, by extension, crop harvests, and food supply. Those changes were revolutionary, but even more radical ones are ahead, propelled by the maturation of artificial intelligence technologies that are currently the focus of testing in agriculture.
After the extensive research on farming and what farmers need to greatly enhance their labor the conclusion that farmers don't need automated steering and driving tractors is incorrect. It is suggested that GPS autopilot system features be added to tractors and other machinery to help farmers with their operations and make their work more efficient overall.
Tractor Autopilot is Born:
The concept of a tractor autopilot emerged as the new focus of the endeavor. When it was realized that artificial intelligence in agriculture should prioritize production above autonomy, things started to make sense.
How GPS autopilot systems might aid in making advancements, how robots could "see" like humans, and how they could even mimic human activities.
GPS autopilot system would allow a single farmer to increase productivity by using a fleet of machines to execute repetitive activities at a higher rate and with greater precision.
It enables the operator to improve the pace of work without making errors.
Drive faster and get more done in less time with this.
It makes it possible for operators with less training to successfully carry out this complex task.
JY305 Tractor GNSS Auto-Steering System
When you use the JY305 Auto-Steering System, a high-torque motor controls your steering wheel automatically. It is an amazing autopilot system to enjoy the advantages of easy installation, high torque, accuracy, low noise, low heat, and fast debugging in a single product. Isn't it fascinating? Because of its versatility, the SMAJAYU JY305 might be useful for a broad range of agricultural machinery, such as tractors, harvesters, rice transplanters, and pesticide sprayers, amongst others.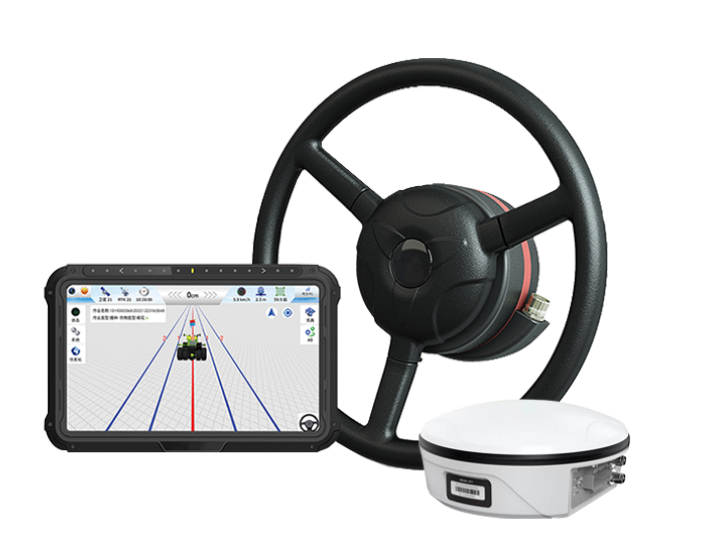 Advantages of using the JY305 Auto-Steering System:
You will have auto-steering with an RTK accuracy of 2.5 centimeters on tractors
Its High-Integration System will increase your productivity and efficiency
10.1-inch touch screen display will help you to control it easily.
It supports CORS's Precise Methodology to improve accuracy.
How does Tractor Autopilot Work?
There are essentially three primary components to the tractor autopilot system.
 A vision or perception system interprets footage from built-in cameras as harvest approaches, identifying factors like plant position and orientation. To construct the perceptual system, supervised deep learning is used.
The next step is human action, which decides what the vehicle should do next at a high level, such as whether or not to raise or lower a cutting arm and by how much. This, too, is an application of supervised deep learning in its construction.
Another component is a feedback control system, which takes input from the driver and turns it into hydraulic motor orders that are then transmitted to the motors to activate the machine. In this case, classical control theory was used in the construction.
The autopilot picks up new abilities in a number of ways. One is the first introduction of talent. When the system is exposed to circumstances that haven't been previously seen in its internal databases, it gains the ability to adapt.
The system looks at data engineering and data collecting updates the label book and runs through re-trained models to add or update capabilities that an autonomous machine may demonstrate. 
After the new instructions have been tested, optimized for inference, and deployed, they will be monitored in the field to identify any performance regressions as soon as possible.
The Future of AI in Farming:
The application of artificial intelligence (AI) in farming has the potential to significantly boost agricultural production in ways that farmers may not even be aware of at the moment. You could make a significant contribution while not having total autonomy. We looked into the inner workings of the landing platform to better understand how it enables the quick deployment of artificial intelligence applications in production. There is no doubt in my mind that the pervasive use of artificial intelligence will have a significant effect on the whole computer sector.
The vast majority of farmers will find advantages in the areas that are most directly connected to the work that they do at the present time.
However, you are responsible for harvesting the crops in the correct manner or ensuring that the plow is set to the correct depth and is facing the right direction. When I initially looked at this, I was astounded by the enormous number of different crops, locations, and occupations that are involved in farming.
Which GPS autopilot system is valuable?
For row crop applications, SMAJAYU has introduced its SMAJAYU JY305, an automated steering system accurate to within inches. The driver can now focus on listing, bed preparation, planting, and cultivation thanks to the hands-free operation. Thanks to this technological advancement, farmers can work longer and more efficiently with their tractors, resulting in more output.
The new JY305 Autopilot system solidifies our position as industry leaders while providing farmers with cutting-edge answers to their problems.
Connecting to the tractor's hydraulic power steering system, SMAJYU'S Autopilot keeps the tractor moving in straight rows. The operator may choose several field patterns and see the machine's operational parameters on a field computer located within the cab. A driver can let the JY305 Autopilot system handle operations while they keep an eye on things from a distance.
Conclusion:
Farming may seem easy but it is really a complicated procedure now SMAJAYU has come to rescue their beloved farmers by saving their time and money with the SMAJAYU JY305 The system's increased efficiency is the primary factor in the reduced cost per acre. Planting, growing, and harvesting are all made easier by having uniformly spaced rows since the machines no longer need to be adjusted to accommodate irregularities.